Aurora - Northern Lights live
Aurora - Northern Lights live map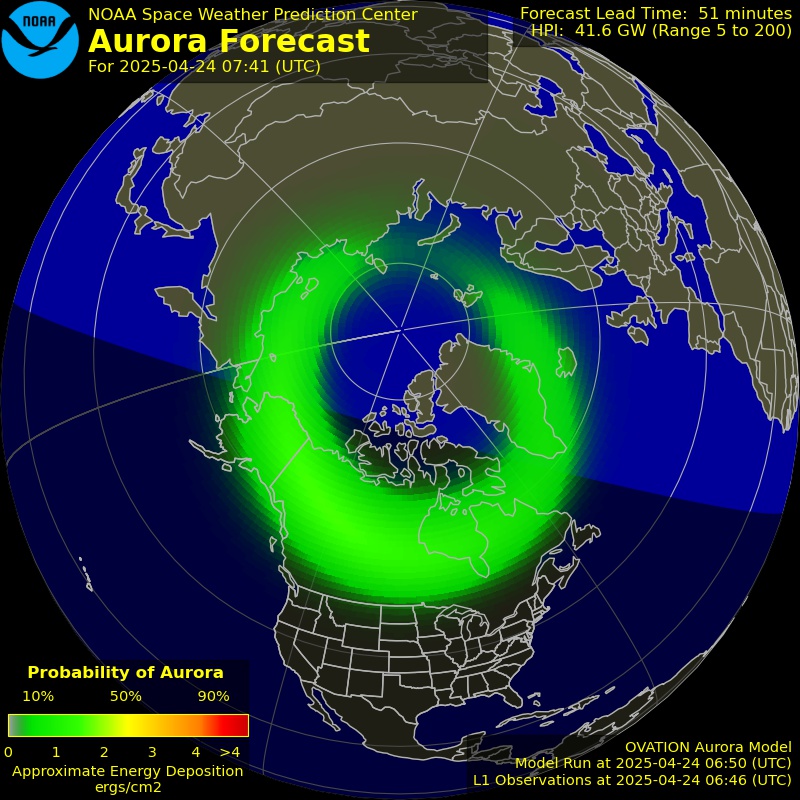 Help & Information
Ohhh the Northern Lights... So beautiful, so rare and we always seem to think that the north pole is the best places to see them (which is true).

However, when we have eruptions or activity on the sun then the risk of seeing an Aurora Borealis (northern lights)

This page displays the latest KP Index and also if we know your location then we can tell you the chance of seeing the Aurora Borealis within the next 15 minutes.


This page displays the latest KP Index and the solar activity.

You can also see the chance of seeing an Aurora based on your location as well as an image displaying the current position of the Aurora Borealis.

(Refresh page to get the updated image every 60 seconds)
Some amazing views of the Aurora Borealis from The SouthWest
See all news
Taken in May 2015 by Steve @ WestWeather
---
No weather warnings have been issued for the South West at this time.
On This Day ...
Record Temperatures On This Date

Record High


27.6°C - 2012

Record Low


6.8°C - 2010
Today's extremes
Saturday 28 May
High Temp

8.6°C

12:00 AM

Low Temp

5.4°C

4:16 AM

Rain Rate

0.00

mm/hr

00:00 AM

Max Gust
6.9

mph

3:02 AM

Min Windchill

4.1°C

3:13 AM